Titan Airways was chosen by Coca-Cola to fly the FIFA World Cup Trophy Tour 2018, after completing a tender process against five other carriers for this amazing opportunity.
Once the tour was confirmed, we commenced a huge planning exercise, checking routings, aircraft performance and numerous other logistics surrounding the operation itself.
The aircraft re-fit added a new dynamic to our skills. We transformed the interior of the aircraft from 130 economy seats to a cabin that included a large press area at the front, which would be used to display the trophy on the ground in a glass cabinet and where previous World Cup winners, dignitaries and officials would meet the press on arrival at each destination. We also fitted a carpet in the form of a football pitch and lined the side walls with the names of each destination and country the tour would visit. The rear of the cabin was fitted with 38 business class seats in a four abreast configuration, mood lighting, promotional decals and a themed aisle carpet.
We repainted the exterior of the aircraft in a dramatic red, white, black and gold colour scheme that had been designed for the tour.
The 97-day tour covered 146,835 kilometres, visited 51 countries, and 78 airports. It gave millions of people worldwide the opportunity to see the FIFA World CupTM Trophy, ahead of the 2018 FIFA World Cup.
In addition to the trophy, representatives from Coca-Cola, FIFA and supporting agencies were onboard, along with with journalists, camera crews and a security team.
A huge amount of time and effort went into the transformation of the aircraft interior and exterior for this very special project.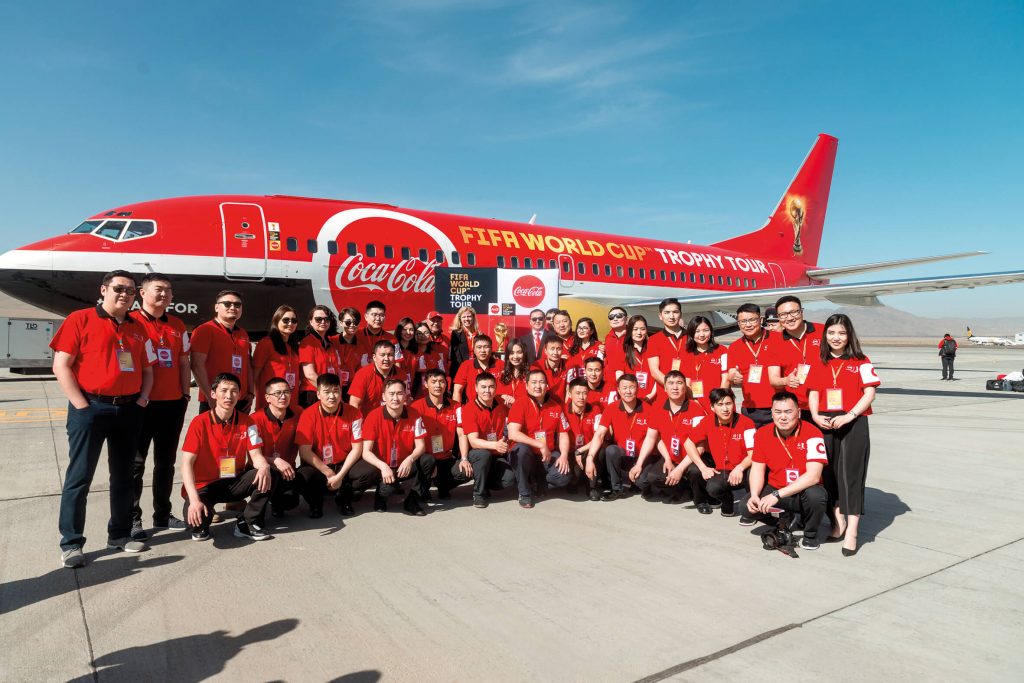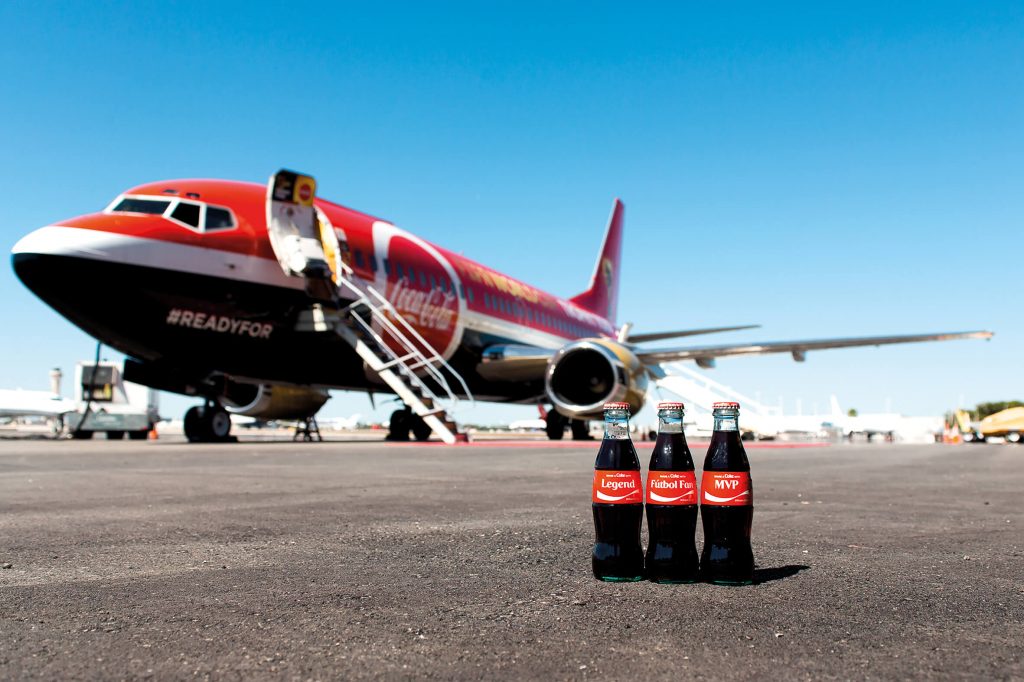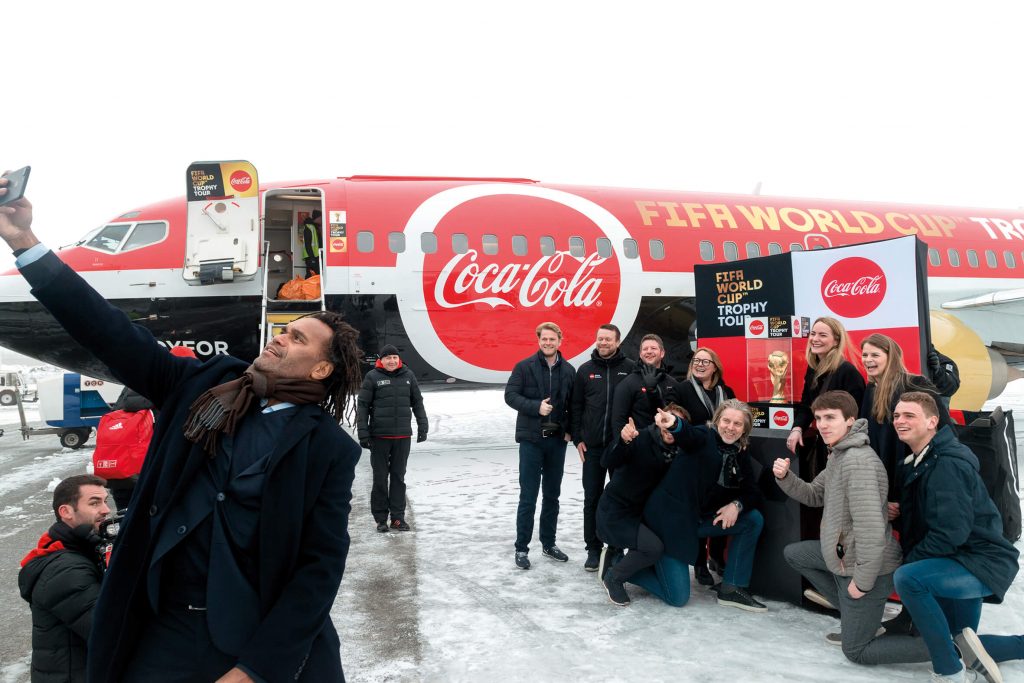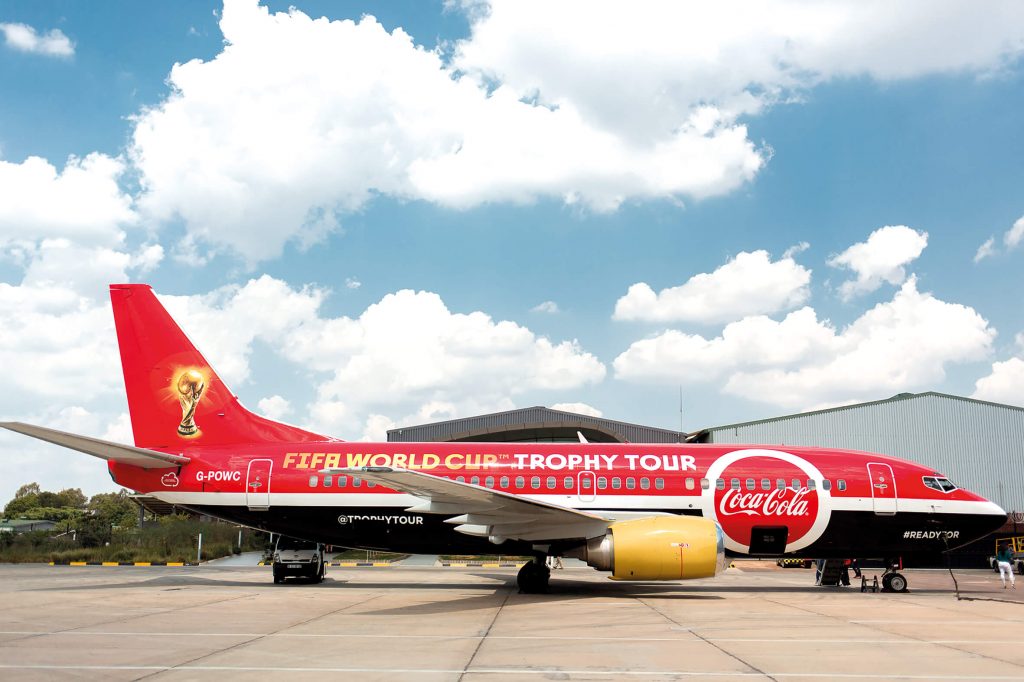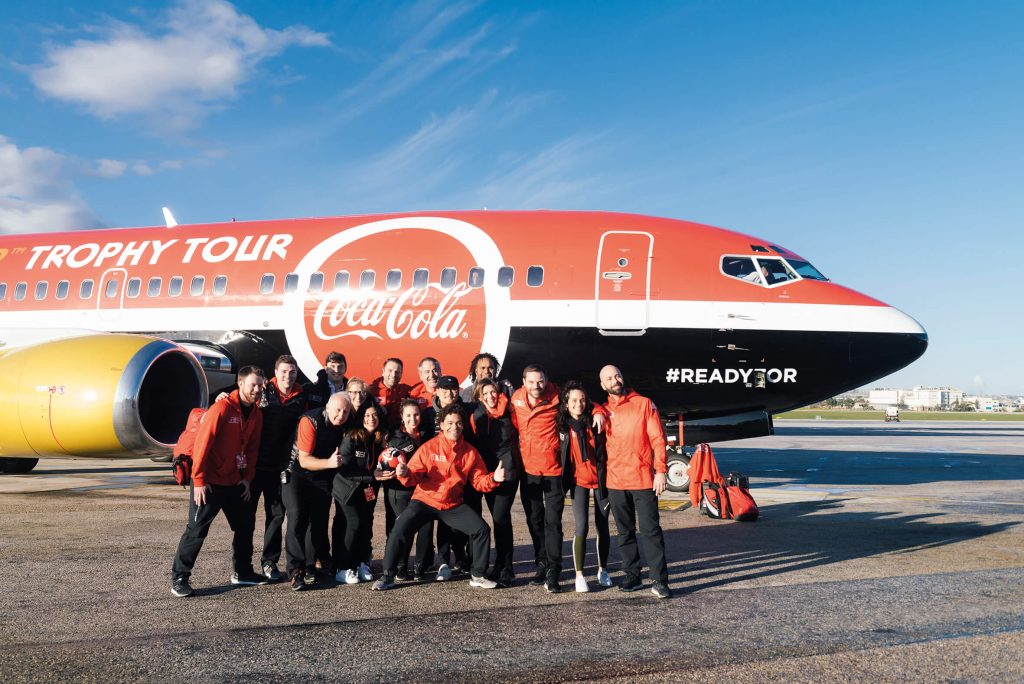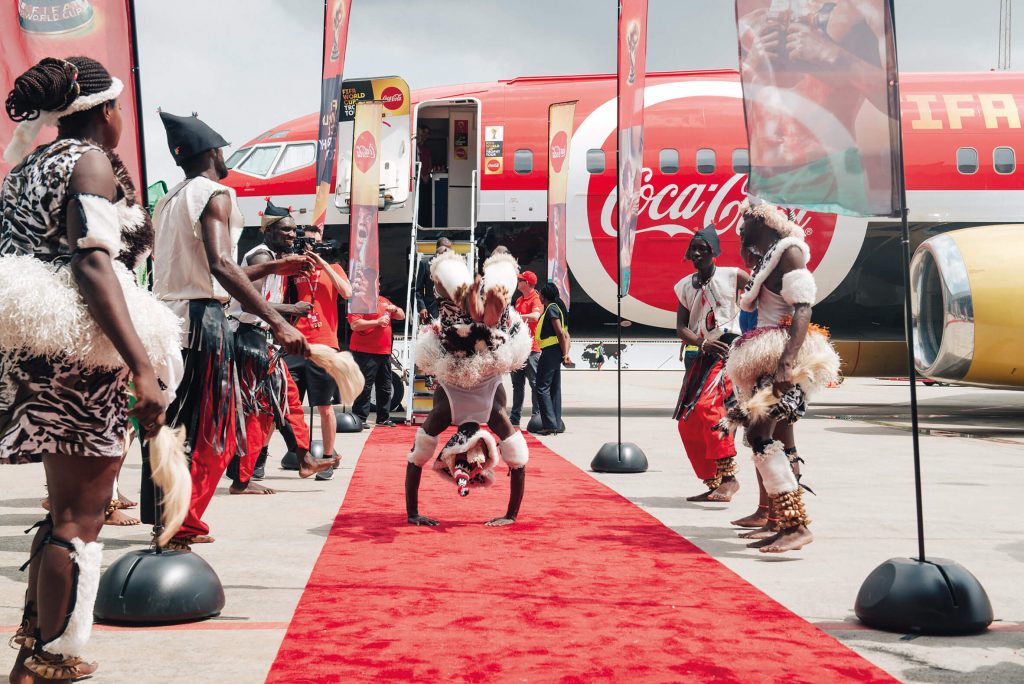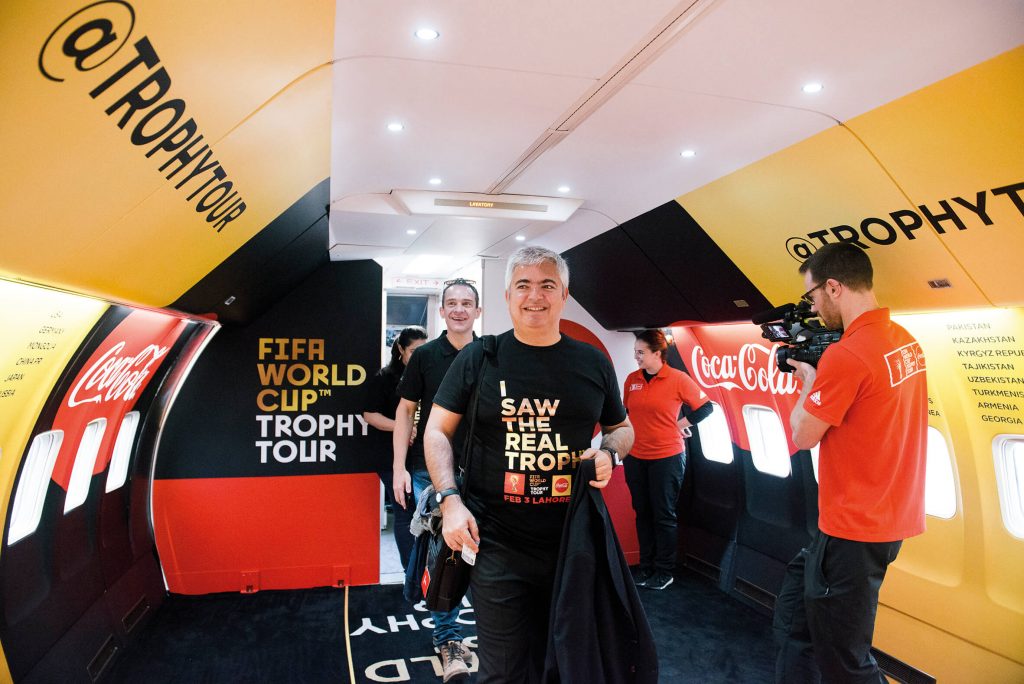 The tour visited:
Columbo, Sri Lanka
Male, Maldives
Kolkata, India
Phuket, Thailand
Vientiane, Laos
Macau, Macau
Davao, Philippines
Mopah, Papua
Port Vila, Vanuatu
Nukualofa, Tonga
Honiara, Solomon Islands
Port Moresby, Papua New Guinea
Brunei, Brunei
ChangMai, Thailand
Lahore, Pakistan
Almaty, Kazakhstan
Bishkek, Kyrgyzstan
Dushanbe, Tajikistan
Tashkent, Uzbekistan
Ashgabat, Turkmenistan
Yerevan, Armenia
Tbilisi, Georgia
Baku, Azerbaijan
Valetta, Malta
Vienna, Austria
Minsk, Belarus
Sofia, Bulgaria
Tel Aviv, Israel
Larnaca, Cyprus
Tel Aviv, Israel
Dubai, UAE
Khartoum, Sudan
Addis Ababa, Ethiopia
Nairobi, Kenya
Maputo, Mozambique
Johannesburg, South Africa
Cape Town, South Africa
Lusaka, Zambia
Kampala, Uganda
Abuja, Nigeria
Lagos, Nigeria
Dakar, Senegal
Abidjan, ivory Coast
Ndjamena, Chad
Cairo, Egypt
Hurghada, Egypt
Naples, Italy
Paris, France
Cologne, Germany
Oslo, Norway,
Torshavn, Faroe islands
Keflavik, Iceland
Goose Bay, Canada
Jacksonville, USA
Cartagena, Colombia
Rio Branco, Brazil,
Tucuman, Argentina,
Buenos Aires, Argentina
Rosario, Argentina
Santa Cruz, Bolivia
Bogota, Colombia
Panama Pacifico, Panama
San Jose, Costa Rica
Guadalajara, Mexico
Monterrey, Mexico
Cuernavaca, Mexico
New York, USA
Austin, USA
Los Angeles, USA
Keflavik, Iceland
Frankfurt, Germany
Minsk, Belarus
Astana, Kazakhstan
Ulaanbaatar, Mongolia
Beijing China
Pudong, China
Tokyo, Japan
Vladivostok, Russia